Are you an avid Pokémon Trading Card Game collector? If yes, this will give you some tips and tricks on how to take care of your Pokémon cards so they will be as fresh as the day you pulled them out of the booster pack.

Pokémon is one of the most successful video game franchises in the world, and its card game series has been just as successful as it became the highest-selling trading card game of all time with over 34.1 billion cards sold. Up to this day, Pokémon TCG remains one of the most popular collectible card games out there and continues to flourish, with collectors and players racing to pick up the latest set of trading cards.

Preserving the card's value is an essential part of collecting. And it is a fact that Pokémon TCG is one of the expensive hobbies, as collectors, we wouldn't want to store our rare and valuable cards in ways that will damage them, especially if we ever think or want to resell them in the future.

As Pokémon card collectors, players, and TCG enthusiasts, we know that cards can get moldy––our Pokémon monsters and other TCG collections won't appreciate that! So it is important for us to invest in choosing the perfect storage methods to ensure that our prized cards collection can withstand years of use and many battles.

Well, EVORETRO has great news for you! Made by a true Pokémon fan and retro enthusiast ourselves, we are thrilled to introduce the newest line of acrylic protectors for Pokémon Booster Pack and Pokémon Trading Card Game. Perfect to adding oomph to your deck of Pokémon cards and TCG collections while providing the utmost protection to your fandom pride!

A look at EVORETRO's custom-designed acrylic protectors that best fit your most precious Pokémon game card collections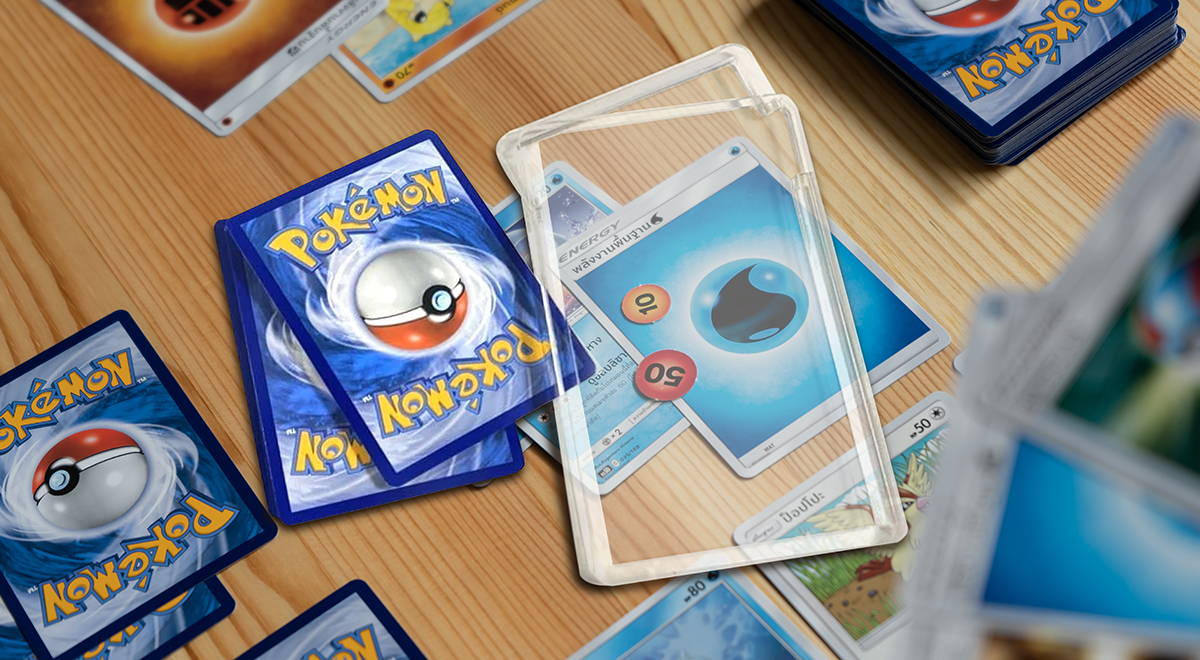 Have you ever had your precious cards damaged because of scratches, smudges, yellowing, and even cracking? If so, then this Pokémon Booster Pack Acrylic Case with Magnetic Lock Lid is what you need. Highly recommended as a fellow collector, this clear acrylic card protector is more sturdy than glass or general plastic products. It is made from a high-quality acrylic material that can help you protect your cards from rips, tears, dust, UV rays, and damage caused by moisture, all these while preventing your cards from fading and discoloring over time.
A plus? This Pokémon Booster Pack protector features a magnetic lock lid design for easy access and a portable design for added convenience. Take your favorite cards wherever you go without any hassle!

If you're looking for a long-term storage solution for your treasured cards, Magnetic Cases is the perfect go-to!

Features:
High-Quality Transparent Acrylic
3MM Thick
Magnetic Lock Lid Design
UV protection to protect cards from fading and discoloration
Ideal for packed and loose cards
Perfect case protector for Black and White Series, like Sun and Moon, X/Y Series Trading Cards Box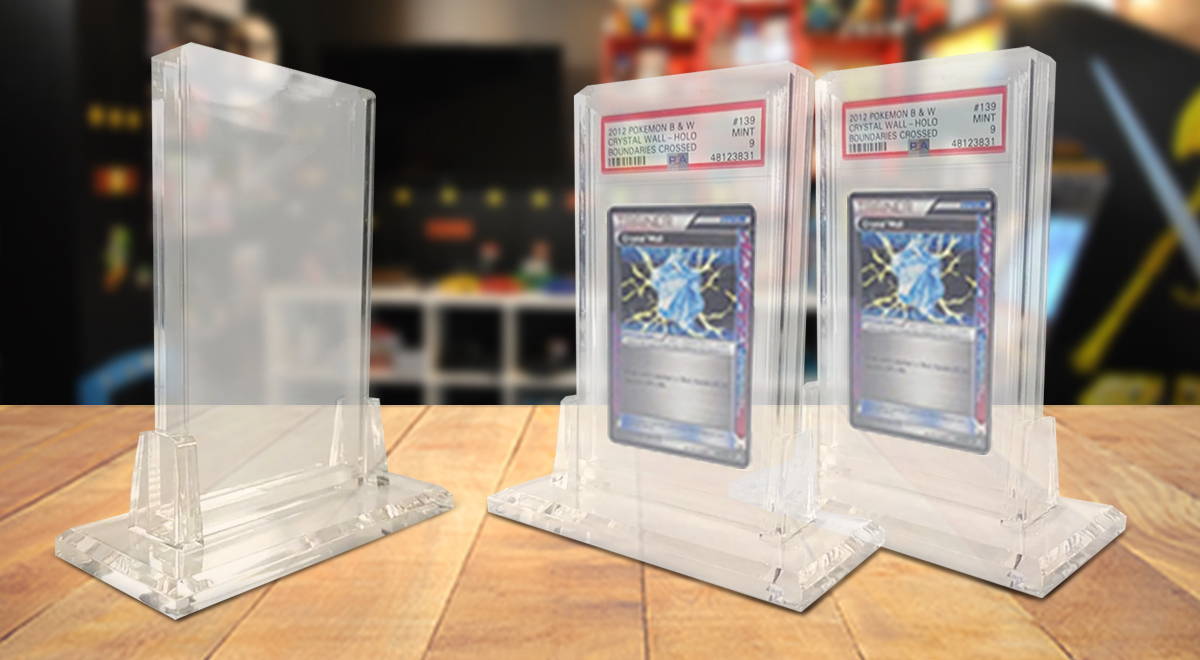 Want to show off your valuable cards but don't want to risk damaging them? This card holder is made to showcase your collection while protecting them! Featuring high-quality crystal-clear acrylic materials and a sturdy base, this slab holder and stand will hold your Pokémon PSA Graded Cards in place while providing extra protection with its easy sliding card slot. This acrylic protector is specially designed to hold your PSA Graded Cards snugly in perfect fit without sliding around.
Great for those one-of-a-kind Pokémon cards that need to be on display, each case has a transparent innovative design that allows you to easily view your cards from all sides. What makes it even better is the smooth modern look that's sure to complement any area where you choose to house your graded treasures. Go and impress your friends, co-collector, and TCG gamers, enthusiasts alike!
If you have a graded card that's just too beautiful to keep in the slab, show them off with EVORETRO Pokémon PSA Graded Card Slab Holder and Stand - Acrylic Protector.
Features:
Clear Acrylic Material
4MM Thick (Slab Holder), 10MM Thick (Stand)
Dimensions: 5.4" tall x 3.23" wide x 0.28" deep
Single-card holder (standard-sized card)
Displays the card at a 5° angle
Fitted for PSA Graded Cards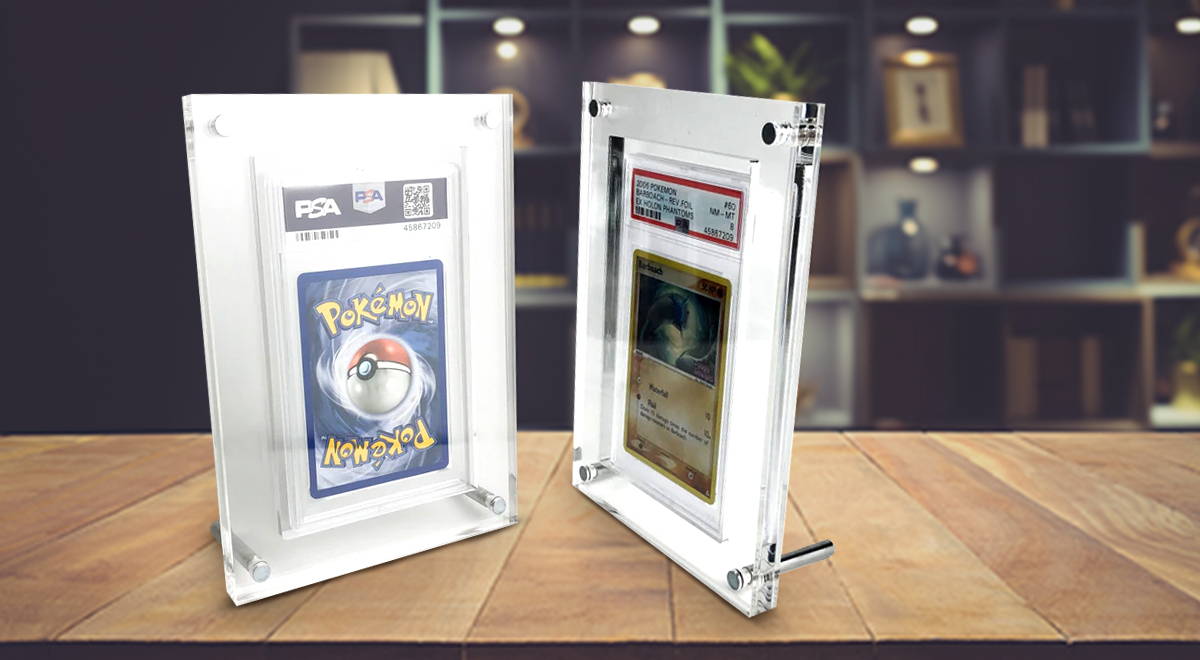 How about displaying your most prized card as a token of pride? We got you on this with our built-in stand acrylic protector for Pokémon PSA Graded Cards. This is made from ultra crystal clear, pure transparent plexiglass material which can hold one single card and is great for displaying your PSA graded card at maximum visibility. Proudly display your collection in a 360 view.

The best part? This lightweight card display built-in stand features UV protection to save your rare Pokémon card collection from UV rays damage that can cause fading over time. It has a fixed metal stand too, so you can display your rare card in the best way possible. Definitely a must-have for collectors for displays in your home, office, or at the show!
Raise the bar on your prized Pokémon PSA graded cards with this stylish crystal coat acrylic standalone desk frame. This makes a great gift for Pokémon fans and any collectors!
Features:
Made from High-Quality 100% Transparent Acrylic
14MM Thick
Dimensions: (H) 137 x (W) 82 X (D) 7.5MM
For Standard Cards: 2-½''x 3-½''
PVC-Free and Acid-Free Material
Metal Stand for Sturdy and Superior Display/Presentation
Make sure your holographic TCG preserves its value with EVORETRO Acrylic TCG Box Protectors!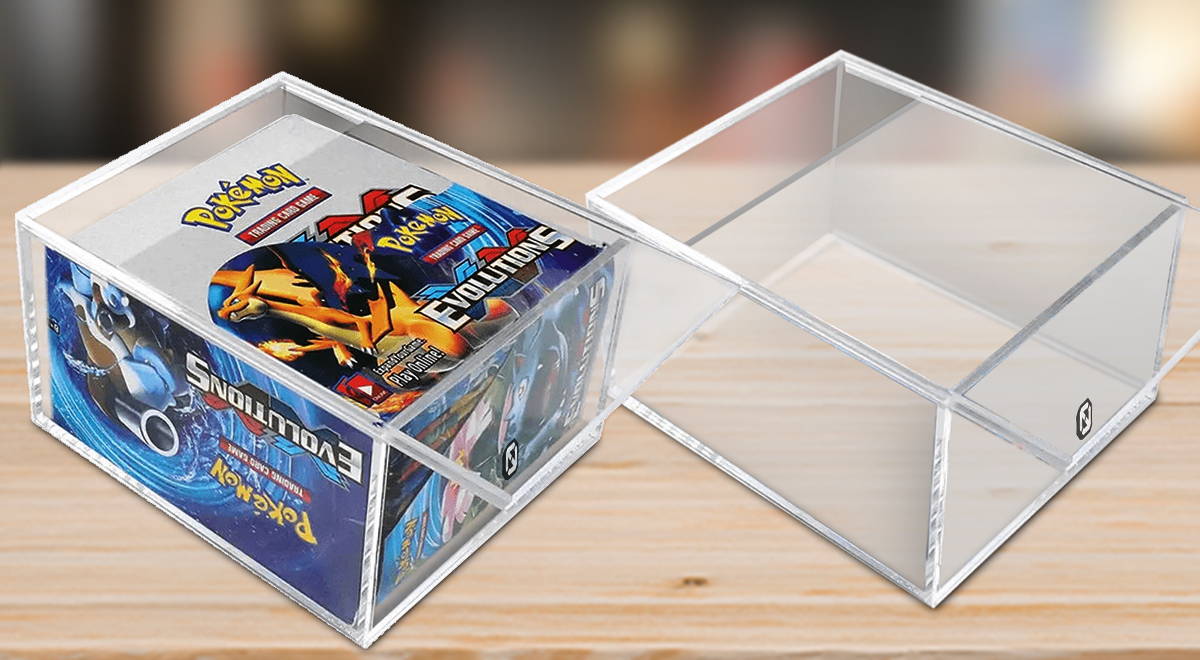 Here's the perfect display case for your Pokémon booster box––a stylish, ready-to-display box that's both UV protected and dustproof!

EVORETRO Pokémon Booster Box w/ Sliding Lid Acrylic Protector is made from high-quality acrylic material making it highly durable, impact-resistant, and waterproof. Not only that! This also features a UV coating to protect your precious cards from UV rays, dust, and other elements that can damage your collection. It comes with a sliding lid lock system for more secure protection.

This display case is specially designed to display one standard size for the Pokémon Booster Box and is compatible with all the modern series like Nintendo Era EX-series such as Ruby & Sapphire, Sandstorm, Dragon, Team Magma vs Team Aqua, Hidden Legends, Fire Red & Leaf Green, Team Rocket Returns, Deoxys, Emerald, Unseen Forces, Delta Species, Legend Maker, Holon Phantoms, Crystal Guardians, Dragon Frontiers and Power Keepers.

Features:
Inner Dimensions: (H) 13.8 x (W) 12.5 x (D) 7.7 CM
Thickness: 4.0MM
With UV Protection
Durable, Impact Resistant
Dustproof and Waterproof
The display features a sliding lid for secure protection
The four sides of the box are professionally polished to prevent scratching
Don't just protect your Pokémon Elite Trainer Box, display them with pride with our premium acrylic protector!
On top of securing your collection from dents and scratches, our Pokémon Elite Trainer Box Protector w/ Sliding Lid has UV protection to save your cards from UV rays damage and keep their pristine condition for years. It also features a prime grade, crystal clear transparent acrylic material that boasts excellent durability.
The premium case is 4MM thick and comes with a convenient sliding bottom lid design that makes it easy to access the items inside without opening the entire case. This protective storage case is also stackable for easy storage—stack as many cases together without worrying about them crashing down or taking up a lot of space either!
Perfect storage option for collectors, keeping their cards protected and sealed while also looking crisp on display. Let your collection shine, as your trophies deserve a premium display case!
Features:
High-Quality Acrylic Protective Case
4MM Thick
Dimensions: 7.48 x 6.54 x 3.62 inches
Sliding bottom Lid
No assembly required
Eco-Friendly Material
Our commitment as collectors does not end the minute we take possession of our precious card collections. With EVORETRO's Pokémon acrylic cases, we can Proudly Display and Protect them for life. Let's go and catch 'em all!