As fellow Pokémon collectors, we know the struggle of getting the most precious Pokémon cards containing exclusive Pokémon collector's items. But, what's harder is what comes after, which is taking care of your most valued Pokémon cards and keeping them in sealed boxes.
Yes, you can put these items in a well-kept room, sealed inside its box. But, even by being careful with your collection, accidents can still happen. That's why you need extra protection for your valued items such as Pokémon cards and Pokémon boxes.
But, of course, even your protectors can be more than just protectors to safeguard your items. They can also be valuable themselves. It's the biggest reason why EVORETRO partnered with Jason Paige for the EVORETRO Pokémon Trading Card Game Box Protectors - Jason Paige Edition.
As a Pokémon card collector, you probably already know who Jason Paige is. But, if you have no idea yet, he is an American singer, writer, record producer, and actor who's mostly known for singing the English version of the Pokémon theme song when it was first released in the US and across the world.
If you've been a lifelong Pokémon fan, especially when you became a fan around the time when Pokémon was still new, you probably spent a lot of your time singing along to the famous lyrics "I wanna be the very best, like no one ever was… Pokémon gotta catch 'em all" in each Pokémon episode.
With Jason Paige being associated with Pokémon since its English version started, he's one of the few people that's really closely associated with Pokémon outside Japan.
As Pokémon fans, we collect and protect our precious Pokémon TCG items mainly because of the nostalgia that it brings. When you look at your collection, many great memories as a Pokémon fan get replayed in your brain, right? With one look at your Pokémon TCG items, you're suddenly back in the '90s.
For the best hit of nostalgia for Pokémon TCG collectors, EVORETRO went out of its way to form a collaboration with Jason Paige. You can enjoy having box protectors to keep your trading cards and Pokémon boxes safe with these limited edition protectors that are designed in collaboration with someone who's really included in how Pokémon formed a lifelong passion in children all over the world during the '90s.
EVORETRO - The Place To Get Your Groove On Like You're Back In The Nineties
The Items in the EVORETRO Pokémon TCG Box Protectors - Jason Paige Edition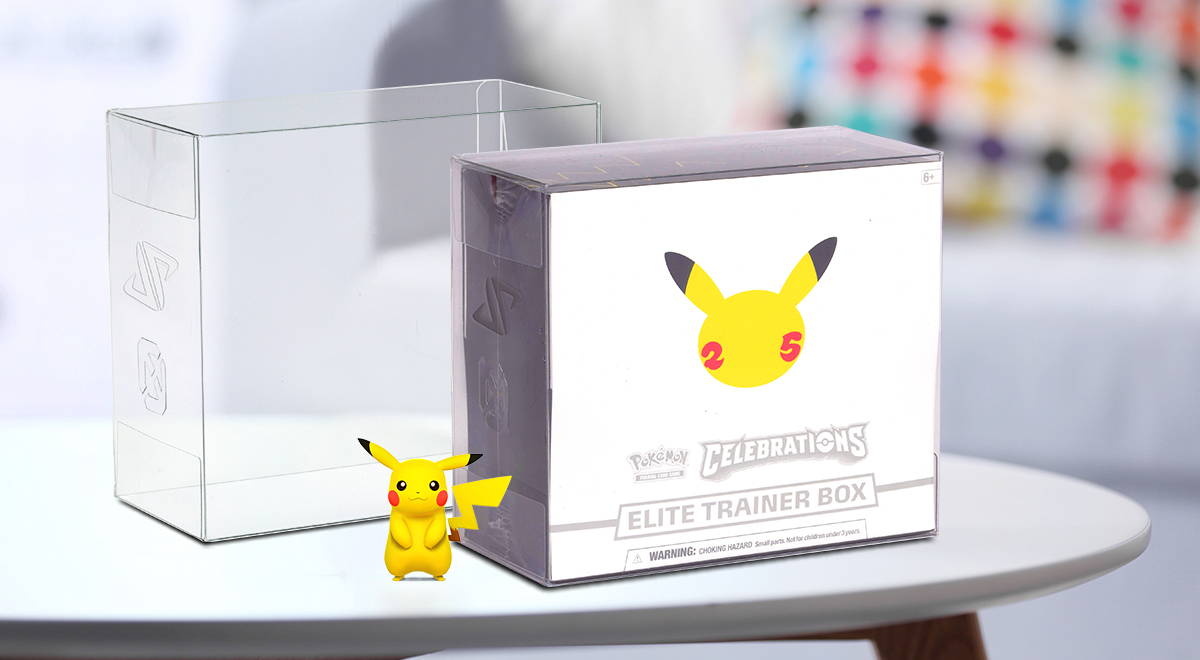 The Pokémon ETB Jason Paige Edition Protector is built to protect your elite boxes with its 0.50MM thickness, perfect if you want them to retain their condition and value. This item is compatible with all Pokémon Elite Trainer Boxes that fit all modern sizing standards.

Other than being designed to fit all sizes, the Pokémon ETB Jason Paige Edition Protector also comes manufactured with premium high transparent polyethylene terephthalate (PET) plastic material to make the protector strong and stiff but still with good optical clarity, so you can still marvel at your trainer boxes while your PET protector keeps them safe and secure.
For extra protection, it has an easy-to-peel removable film that ensures your trainer boxes are free from dust. It also has good material and manufacturing to ensure that dirt and other particles won't make their way to your valuables, protecting your retro collection from damage.
If you're wondering if it'll fit your box, its dimensions are 16.8 x 9.1 x 19.1cm.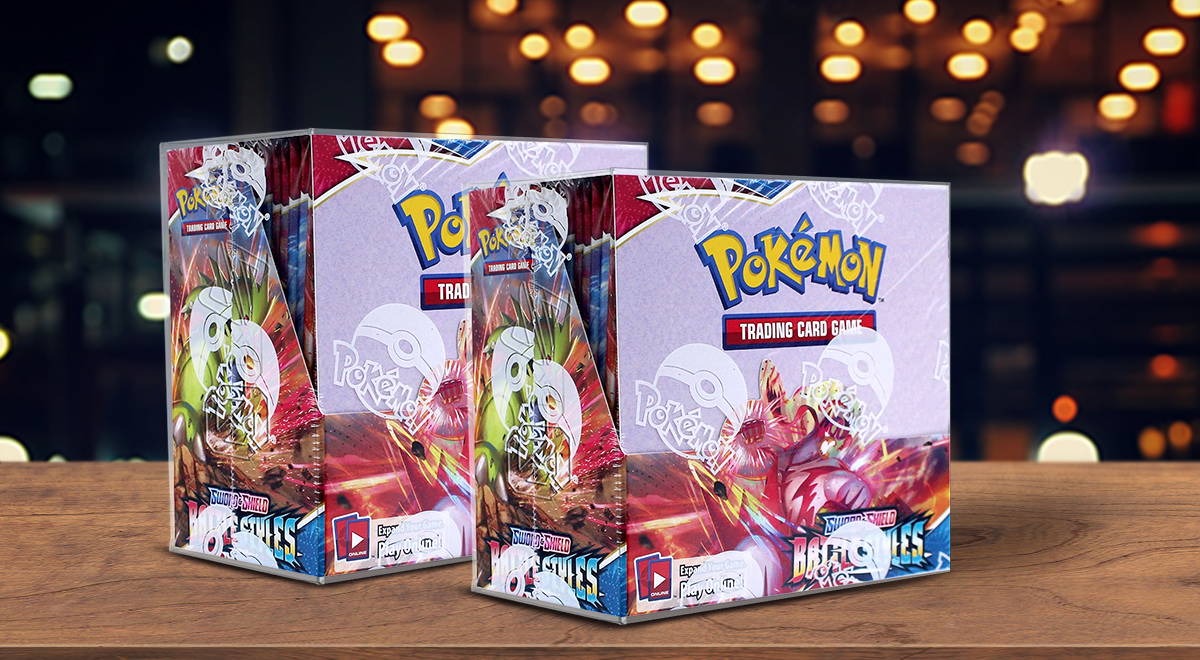 The Pokémon Booster Large Box is designed to protect your precious Pokémon Booster Boxes, it is a Jason Paige edition and what makes it more special is Jason Paige's personal touch with its embossed logo emblem.

Our protectors use a high optical clarity PET plastic material that protects your trainer box without compromising the look of your collection. It has a 0.50MM thickness that guards your item against dirt and damage, in crystal clear display.
They are also stackable, so they are easy to keep. These protector cases are shipped flat to avoid damage. Also, even if they are shipped flat, they are still easy to unpack and assemble.
With the Pokémon Booster Large Box Jason Paige Edition Protector, you can keep your trainer boxes in great condition for multiple years. Take pride in collecting them by providing proper protection while on display. It also has a removable film that's easy to peel off, which helps it easier to see your items even when you're keeping them inside the protector.
Our product is acid-free and has a protective film that you can easily remove if you want to add visibility to your collections. Check your collectibles and see if they will fit the 12.4 x 8 x 13.7cm protective case dimensions.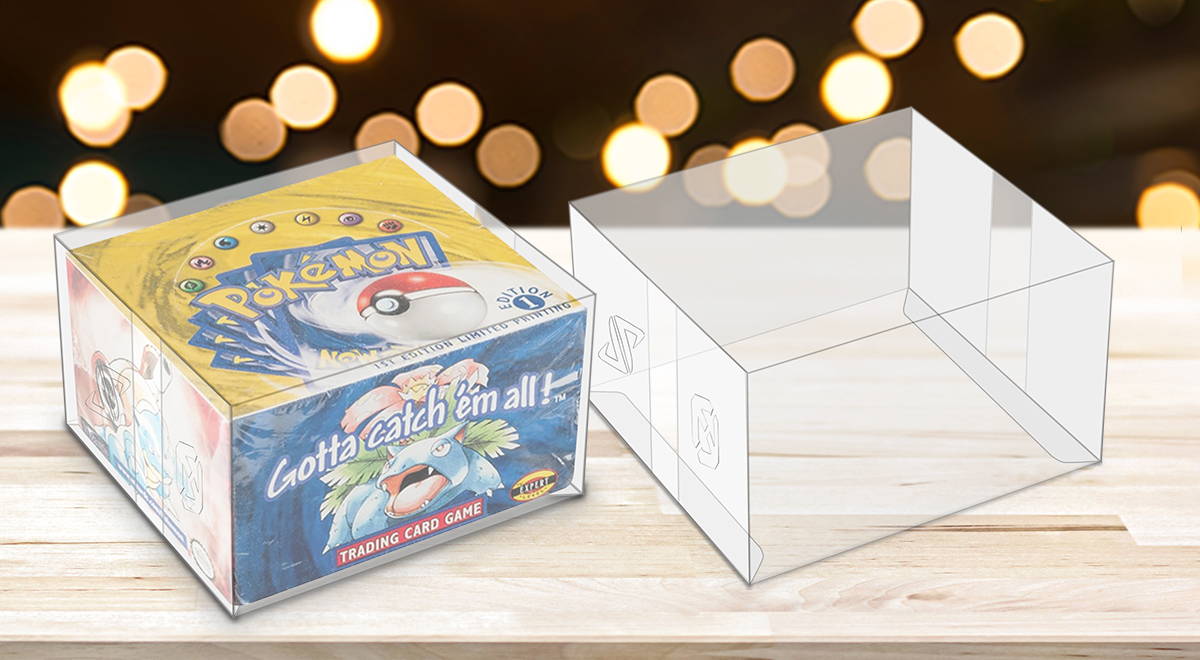 Pokémon items aren't cheap, especially the best and most authentic Pokémon merchandise and limited edition items. Of course, they will cost you a lot of money, but their worth can go well over their original purchase price if you can keep them in pristine condition.
The Pokémon Original Booster Protector Jason Paige Edition is a custom-made box protector designed and built for your rare, most valued, first-edition Pokémon Booster Trading Card Game.
With this PET protector, you can keep your Pokémon cards protected from dust, moisture, dirt, damage, fingerprints, and more! All of which can make their way to your cards when they are laid bare without a protector no matter how careful you are, so better not to risk it and give your collection the protection they deserve.
Our protectors are manufactured with the best archive-grade acid-free, odor-free, and transparent polyethylene terephthalate (PET) plastic. You can also stack it without damaging your items or your protector, which is great if you organize your Pokémon items in a tight space. If you want it to be clearer from the outside, you can also peel off the protector's easy-to-peel protective film.
It is also convenient to unpack and assemble because the protector has a soft crease folds for easy set up. You also don't have to worry about your valued items being squeezed inside, as it has ample room to ensure that the packaging on your retro collection isn't too tight.
Get its measurement to confirm if it fits the dimension of: ​​
13.6 x 12.4 x 7.6cm.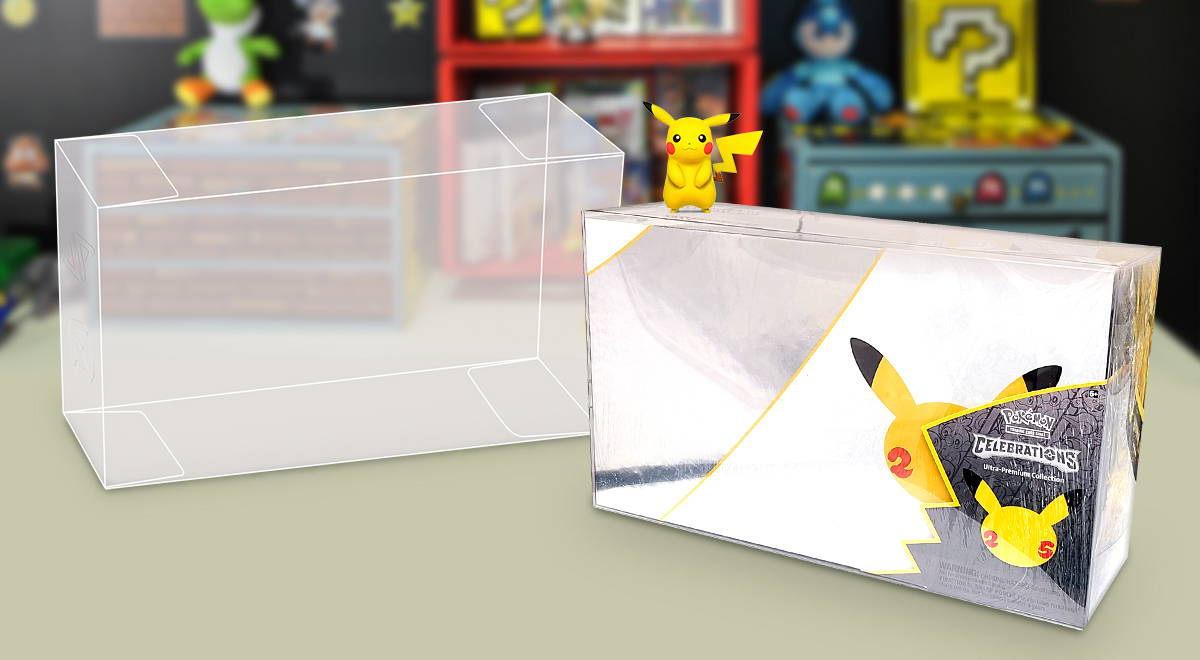 The Pokémon Celebrations Ultra Premium Booster Collection Box display case is one of the premium items in the EVORETRO-Jason Paige collaboration. It uses non-PVC and acid-free materials that provide improved protection for your Pokémon merchandise and is also more environment-friendly.

The display case is 0.45MM thick and made of high-quality transparent PET plastic material that can keep your booster boxes clean, dry, and safe. It is compatible with the Pokémon Celebrations Ultra Premium Booster Collection Box. If you have it, you can make great use of this protector to safeguard your sealed box collection.
When you get your hands on the protector, it has flaps on both sides and has an inner dimension of 18.2 x 31.5 x 9.2cm to fit your merch. It has soft-creased folds, removable film, a stackable structure, and a transparent design.
Another item in our Jason Paige line of protectors is this display case designed to protect your Pokémon ETB Center 25th Celebrations Elite Trainer Box collectibles.

If you're a Pokémon collector, this EVORETRO display case is the perfect addition that can make your collection look even better while also keeping it safe from damage and dirt. Not only will your trainer box be rare, but your protective case will also be a rare item.
Our protectors would add a defined look to your collections as it has a crystal-clear protective case. It means you can display your collection without compromising its value and preserve how nostalgic and neat it looks. To make it even better, we also included a removable protective film for added protection.
It has dimensions of 21.5 x 21.7 x 9.7cm, specifically designed for the Pokémon ETB Center 25th Celebrations Elite Trainer Box. It has the right amount of space to keep your merch safe without squeezing it inside the case.
The EVORETRO collection of Pokémon TCG Box Protectors - Jason Paige Edition is inspiredly made to ensure your retro items will be Proudly Displayed and Protected. These are the display cases that you should get to take care of your exclusive retro collections.
If you're a Pokémon fan or looking for a gift for a friend who's in love with Pokémon, you're just in time to get these EVORETRO-Jason Paige Pokémon TCG Box Protectors, hurry before our limited collection runs out!
View the products here: EVORETRO x Jason Paige